Ghana Fast Track
Airport Meet and Assist
VIP Assistance at Kotoka (ACC) airport ...
CHECK PRICE
BOOK NOW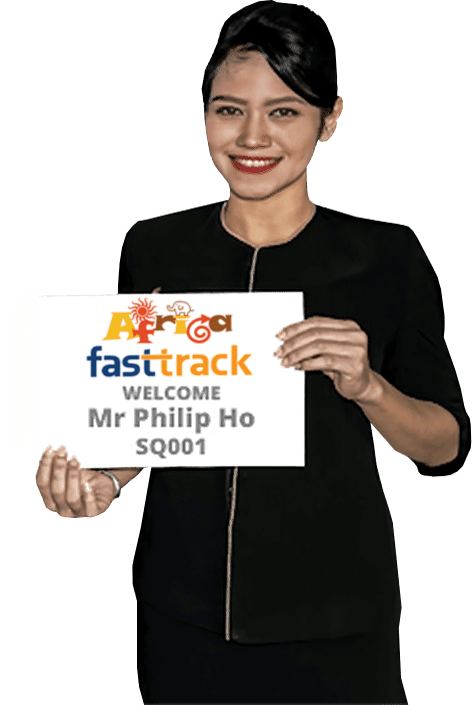 Meet and Assist services at airports in Ghana. For any traveler, on any airline, in any cabin class.
Ghana Kotoka (ACC) airport is a small but busy airport in continental Africa.  Booking a Meet and Assist Service will make passing through it fast and easy. Ghana Fast Track's local greeters will help bypass the lines and ensure a quick arrival, a smooth departure, or a successful connection.
Africa Fast Track's service in Ghana adds a first class feel, usually reserved for VIPs or celebrities. The service may include regular or special immigration handling, an electric buggy kart, help with VOA and baggage,  Before you book, our reservation team & system will help you book the exact service that you need.
Airport Meet and Greet service in Ghana Kotoka (ACC).
On arrival GhanaFast Track's English speaking greeters will meet you near the air bridge. They will assist you through any passport or visa control, and escort you to the baggage and customs area. They will help find your driver, or if you booked a connection, check in to your next flight.
On departure, they will contact your driver, will assist you through check-in and immigration, and will take you to your airline lounge or the boarding gate.
For connections, the greeter will meet you near the air bridge and will guide and escort you through the arrival, departure and transfer processes needed for your connection, right through to your airline lounge or the gate.
For more than 10 years our Airport Assistance and Booking Team has assisted thousands of travellers pass smoothly through busy airports. Before you book, Fast Track's tools and expert staff will help you understand and choose the exact service you need at the lowest possible cost.
Fast Track services are available to any traveler, on any airline, and in any cabin class, and in all major airports around Asia, the Middle East & Africa.
Kotoka International Airport (IATA: ACC) Serving the capital city of Accra, this is a large airport that is served by many international carriers including British Airways, Delta Airways, KLM, Emirates and many more. It has the capacity to handle large aircraft including the A380 aeroplane.  There are 3 terminals; terminal 1 is the government VVIP terminal where diplomats fly from and where the military operate from. Terminal 2 is for domestic flights and Terminal 3 is long haul and international.
In 1969 the airport was named after Lieutenant General Emmanuel Kwasi Kotoka who was a member of the national Liberation Council; he died in a location close to what now is the forecourt of the airport. Situated 8Km from Accra City Centre. Taxis are plentiful outside the airport with metered and non-metered taxis available. Additionally, many of the larger hotels do offer shuttle buses to and from the airport. Generally, the airport is well equipped with around 1000 parking spaces, many restaurants, duty free, banking and even hotels located in very close proximity.
Covering an area of more than 28,000 km2  Ghana is located in the sub region of West Africa and it has a population of around 30 million. English is the official language with 11 more languages spoken by varying groups. Primarily Ghana is a Christian country with 68% of people classified as Christian with 16% as Muslim. Ghana is a stable country and regarded as very successful and this is evident with it's fast paced economy. Ghanaians are friendly people and often offer greetings to strangers and such a greeting is expected in return. Interestingly, you might hear the hissing 'tsssss' sound, and this is simply to catch your attention and is never thought of as rude. For the tourist; Ghana has much to offer including the wonderful Mole National Park where one can come real close to many of the 90 species of animals that inhabit it.
Accra is well known for some very tasty restaurants as well as a vibrant nightlife and a good shopping experience. The city itself is not the most enchanting around but if you stay for a few days you might well get used to the lingering cooking smells, humidity and sheer volume of everything. The accranians are well known for their politeness and the people really are the heart and soul of this city. The city is full of energy as is evident when you see people moving here there and everywhere all the time.